about the blogger: brenda tan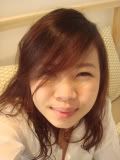 she's 19 and a petite one of only 4"10. she currently resides in melbourne, australia. here she is persuing her bachelors of health sciences, chiropractic.

she is passionate about life; about her family, her friends, her boyfriend, love and success. enjoys spending her time with good conversation over delicious food and coffee, parks and the sun, photography and travelling, movies and comforters, dolling up and bars, indie music, quaint cafes and vintage shopping, beautiful places and culture, festive seasons and grandma.

she's been through several rough patches; she's now a glass half full. she's optimistic, and isn't rushing to the greener side of the grass. taking one day at a time, she's hoping to find ground sometime soon.

contact me at
brendatpy@gmail.com
thank you for stopping by!




what am i doing?
follow me on twitter!
what's cool?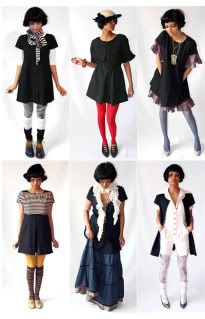 'the uniform project' : exercise for sustainable fashion and fundraising for education in the slums of India.
for more, check out theuniformproject.com
whats on play?
appreciate your hands- amy kuney
won't even start-david choi
bitter heart-zee avi
anything but you- civalias
break me out- the rescues
thank you for last night- amy kuney
| | |
| --- | --- |
| | Sunday, September 20, 2009 |

has it been a week (or two?) since i started uni after the mid semester break?

need to push myself off the couch; the same one i plonk myself on when i get home and the same i sleep on with getting hardly any work done from day to day.

i'm going to get my exam timetable tomorrow, full on week with uni +painting+ moving, and i'm going to move.

i am going to move my bloody buttocks off from the couch. i want to channel my energy, or whatever that is left of my energy into a positive way. i want to work hard and i want to pull down up my sheer stockings and wear my shoes to go dancing at the end of the week. i want to do something about having had enough of thinking everything is intended to be about me and having one a squillion or more moments of self doubt.

have a good week ahead guys, x



Posted at 06:07 pm by honney
Permalink
| | |
| --- | --- |
| | Thursday, September 17, 2009 |
thursday: im your big event, im your jelly filling.


"it was like gravity, big events pull you in"

"i was a big event"


oh. my. god.

can't wait to watch movie of favourite book. tuesday, hopefully !!!



will read book again now now now.

Posted at 03:46 pm by honney
Permalink
| | |
| --- | --- |
| | Sunday, September 13, 2009 |

had to share this, its amazing!

it starts past 50 seconds. absolutely absolutely absolutely spectacular!




Posted at 12:44 am by honney
Permalink
| | |
| --- | --- |
| | Friday, September 11, 2009 |
poor muffin w a cone hehe
it's been such a stressful, hair-pulling, want-to jump off cliff week. i just had no motivation to get work done!
but now that my big tests are out of my way and i've gotten the nerve-wrecking chiro sit-in done and over with, i think im ready to start working again and getting my assignments rolling.
for now, i'm showered (clean and fresh and hair like a cocker spaniels), comfortable on my pull out couch and having some wine and absolutely nothing to do. also cooked and watched the telly with the mr. for dinner so this right now is more relaxing than i could ask for.
p/s: a little homesic :( first in eight months.
Posted at 10:10 pm by honney
Permalink
| | |
| --- | --- |
| | Sunday, September 06, 2009 |



i had the longest sleep in today, im vv satisfied im having a decent lunch now and happy to get back to work after this :)

have a good sunday! x
Posted at 01:03 pm by honney
Permalink
| | |
| --- | --- |
| | Saturday, September 05, 2009 |
saturday: love at the zoo
just a few and i'm off to the showers and sleep. mister &i had wonderful day at the zoo, and i'm just soo so tired now zz, goodnight x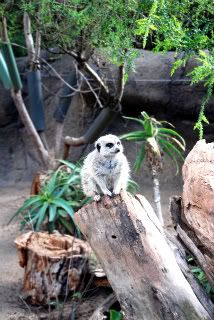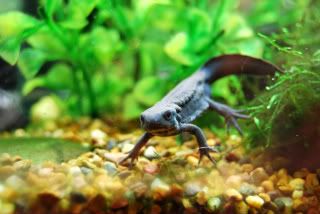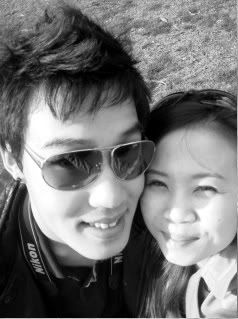 Posted at 07:11 pm by honney
Permalink
| | |
| --- | --- |
| | Friday, September 04, 2009 |
this is me.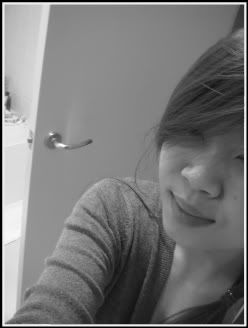 this is my friday.
i wiggle my toes, i drink some wine, i do my readings and i watch a friday night movie and have my mr. for company.
have a good friday night, ya'll.
x
Posted at 05:40 pm by honney
Permalink
| | |
| --- | --- |
| | Thursday, September 03, 2009 |
fearless | colbie caillat
what's another word for exhausted?
i worry exhaustion will be as close to being a celebrity equivalent for me. i should make a note i'm merely a tiny asian girl, and should never. ever. do spontaneous 4 am activities such as blogging then attempt to wake up at 7 in the bloody morning.
though, while i've been putting my nose so closely to my reading notes (and my telly) as of recently, there has been piles and piles of laundry clean and dirty (some in the middle, and some undecided), grease stains on my counter and dog play things in the living room. the second and third of with much annoyance, i do everyday and wake up the next morning to the same damn thing yet again.
i'm also moving hopefully coming thursday, which i have earlier in the week a chiropractic assessment at the clinic on tuesday, should be furniture shopping on wednesday, move on thursday and have two mid semesters on friday of thirty percent each. also of which i am regretfully, not prepared for yet.
how on bloody earth am i gonna manage?!
thats why i packed everything just three hours ago! so i'll be able to focus on other things throughout the week.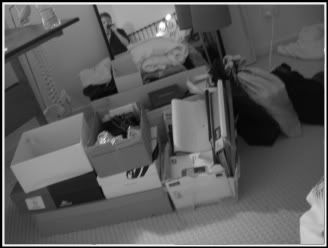 i'm pretty good at this. so thats three hours later, my entire nine months with my more precious shoes, bags in their fluffbags, two boxes of clothes and two drawers of cosmetic items.
separate boxes for stationary and electrical wiring, too!
what i've realised is that i don't want to practice the 70/30 rule. will. use. all. clothing. will. maximise and. optimise!
alot of my lovely purchases here: mum got me ballet shoes hat box, $2 pre-loved tray from camberwell, my floral lipstick, cosmetic and spectacle cases.
i can do this, i need to sort out my
life
week (but a lovely weekend first) now.
have a good weekend! x
i just wanna uhu glue myself to my sheets now..
next entry on the very quaint, surprising breakfast places i've visited recently!
Posted at 10:23 pm by honney
Permalink
| | |
| --- | --- |
| | Wednesday, September 02, 2009 |
the last time i got out of bed because of a spontaneous thought was a couple of months ago when i had a brilliant idea of making my jeans look worn and have rips. i got out of bed and started working in the kitchen with a cheese grater in my hand.
at four am.
i better get a coffee to go before i drive tomorrow.
i reckon i get my worry lines from mum. i'm always worrying, always thinking, there is always something to do; sometimes, i feel like i have definitely put my feet into shoes that don't fit.
in so many ways, i could be a better person. sometimes i get so angry, i wished i could be almost a different person.
i find that its so hard to understand people, and so from out looking in, i could never be the person that i have always wanted to be.
but i do hope, though, that my good traits and my bad traits will mould together perfectly well, that people would understand and they'd say it's okay, and the good and bad make up a tiny million pieces on why they love me and that i've made them proud anyway.
it is, pretty random. i just couldn't put my head down to rest on my pillow thinking of the many things i have to do tomorrow and that i didn't write them down.
oh, i had a lovely afternoon w some uni mates having korean barbeque and some studying, or not.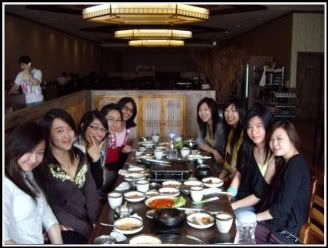 our seven chiro's and two osteo's kaye, iris, alina, dani, bhavini, jena &jade, linda and myself
i'm on my holidays, anyway. which hardly feels like one because i've been super busy and have started putting on my nerd goggles.
will update soon. goodnight x
Posted at 11:34 pm by honney
Permalink
i had a bad day today. how was yours?

its probably about time that i filled this lonely vacant space while my feelings tally along with frustration, anger, disappointment just twitching at my nerve endings. not so much what happened today (the trolley owned by rice bar on swanston/pelham gashed my car and that ungraceful fucker refused to pay for my damages and how the cyclist crashed into my stationary car and scared the fuck out of me) of course, he was much nicer, apologised and i was more concerned for him than my car.

such luck, i know.


sometimes, i have this feeling that i try to do things beyond my capabilities and dream beyond my little moon ring.

and yet, i had to phone, text and messenger chat to find someone to barely wade through the bad day.






Posted at 03:23 pm by honney
Permalink